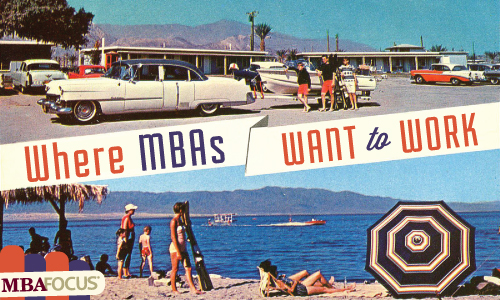 Business school is hard. Students embark in the most rigorous training of their lives to secure lucrative jobs in some of the best companies around the world. There are a lot of factors that go into the careers MBA students, graduates, and alumni are seeking after they leave the hallowed halls of academia. Beyond function and industry, one of the most important factors is where they want to live. Our data shows that only 5.7% of MBAs are absolutely not willing to relocate. And just 11.5% of MBAs are willing to relocate anywhere, with no restrictions. Most MBAs want to live where they can balance work and play, opportunity and lifestyle. Following is the list of 10 places in the United States (and 4 locations overseas) where the MBAs at our partner schools most prefer to live & work.
1. New York City (4.9%): The Big Apple is the epicenter of the retail, advertising, and finance industries. Its fast-paced environment and wide array of ethnicities, idealists, and innovators make the NYC metro area the place to be for quintessential American business. Companies Headquartered Here: CitiGroup*, Ernst & Young*, Goldman Sachs*, IBM*, JP Morgan*, Lazard*, NewsCorp, Upworthy, Verizon Communications.
2. San Francisco Bay Area (4.7%): With its fantastic wines, laid-back attitude, and the tech-mecca known as Silicon Valley, the bay area is the ideal gathering place for business who "think differently". Companies Headquartered Here: Adobe Systems*, Apple, Dropbox, Education Pioneers*, Google*, Hewlett-Packard, Intel*, Lab126*, Oracle, PG&E*, Pinterest, Wells Fargo*.
3. Los Angeles (4.4%): The city of angels is a land of opportunity for thousands of MBAs. There's surfing, Hollywood, and several of the biggest companies in America. Companies Headquartered Here: Capital Group*, DirecTV, Disney, Live Nation Entertainment, Mattel, Occidental Petroleum, PIMCO*.
4. Chicago (4.1%): The Windy City is known for its cold winters, great food, and its storied manufacturing. Due to the latter, some of the country's biggest companies were built on the broad iron shoulders of the Second City. Companies Headquartered Here: Boeing, Cambridge Group*, Exelon, Kraft Foods*, McDonald's, Motorola.
5. Boston (4.1%): Boston is equally rich in both in American and sports history, so it's no wonder that people from all over the nation flock to find work in Beantown. Companies Headquartered Here: Bain Capital*, Biogen, Boston Consulting Group*, Boston Scientific*, Building Excellent Schools*, Fidelity*, Harmonix, Keurig*, Liberty Mutual Group*, Staples.
6. San Diego (4%): Perpetually sunny and 72 degrees, San Diego offers surf, sand, and success in the home of Ron Burgundy himself. Companies Headquartered Here: Jack in the Box, Kashi, Qualcomm, Reef Sandals, Sempra Energy.
7. Orange County, California (4%): There must be something in the air that lures so much leadership talent to the sunny golden state. Orange County is the destination for sun, fun and start-ups, many of whom cater to the OC's laid-back lifestyle. Companies Headquartered Here: Baja Fresh, Circa, Entrepreneur Magazine, Pacific Life, Vans.
8. Washington D.C. (3.9%): America's Capitol is the heart of democracy and home to a good deal of our nation's capital. Companies Headquartered Here: Booz and Company*, Danaher*, Fannie Mae/Freddie Mac, Gallup*, Gannett, General Dynamics.
9. New Jersey (3.6%): The Garden State is home to the Jersey Shore and Atlantic City, but the card tables aren't the only places you can strike gold as an MBA. Companies Headquartered Here: Campbell Soup, Johnson & Johnson*, Merck, Prudential Financial, Toys "R" Us.
10. Connecticut (3.6%): The final location on our U.S. list, Connecticut offers a wide range of established business opportunities to MBAs searching for an eastern seaboard way of life. Companies Headquartered Here: Aetna*, Cigna, General Electric*, Hartford Financial, Pitney Bowes, Xerox.
Some MBAs prefer to get out their passports, brush up on a foreign language, and explore the cultures and customs of another continent. Fortunately ample business opportunities are made available for them too. Here is a list of four continents MBAs prefer most and some of the companies that hire them.
1. Europe (3.1%): The cradle of western civilization is rich in history, scenery, and adventure. Whether working in metropolitan London or in the Swiss Alps, Europe offers opportunity. Companies Headquartered Here: AB In-Bev*, AkzoNobel*, BP, British Telecom*, Credit Suisse*, Ernst & Young*, L'Oreal*, Nestle*, Novo Nordisk*, Prudential, Royal Dutch Shell*, T-Mobile*, Volkswagen.
2. Asia (2.7%): With China and India expanding economically at a quickly growing rate, Asia is becoming a major player on the world economic stage. Companies Headquartered Here: Bank of China, Honda, ICBC, Mitsubishi, PetroChina, Samsung.
3. North America Non-U.S., Canada and Mexico (2.5%): Whether you like ice fishing or exploring ancient ruins, the United States' neighbors to the north and south are also popular places to do business without having to travel too far from home. Companies Headquartered Here: America Movil, Bank of Nova Scotia, Gruma Mexico, Grupo Eaton, Suncor Energy, Sun Life Financial.
4. South America (1.4%): From the flawless beaches of Costa Rica, to the heights of Machu Pichu, to the mighty rainforests of Brazil, South America is a natural treasure as rich in commodities as it is in breathtaking vistas. Companies Headquartered Here: Citgo, Itau Unibanco*, JBS, Molinos, SP Alpargatas, Vale, Valero.
*denotes companies that take advantage of our GradLeaders Recruiting for their leadership talent recruitment needs.
To enable comments sign up for a Disqus account and enter your Disqus shortname in the Articulate node settings.