Virtual Events, Video Meetings, and Real-time Communication Tools the New Norm for Students, Career Centers, and Campus Recruiters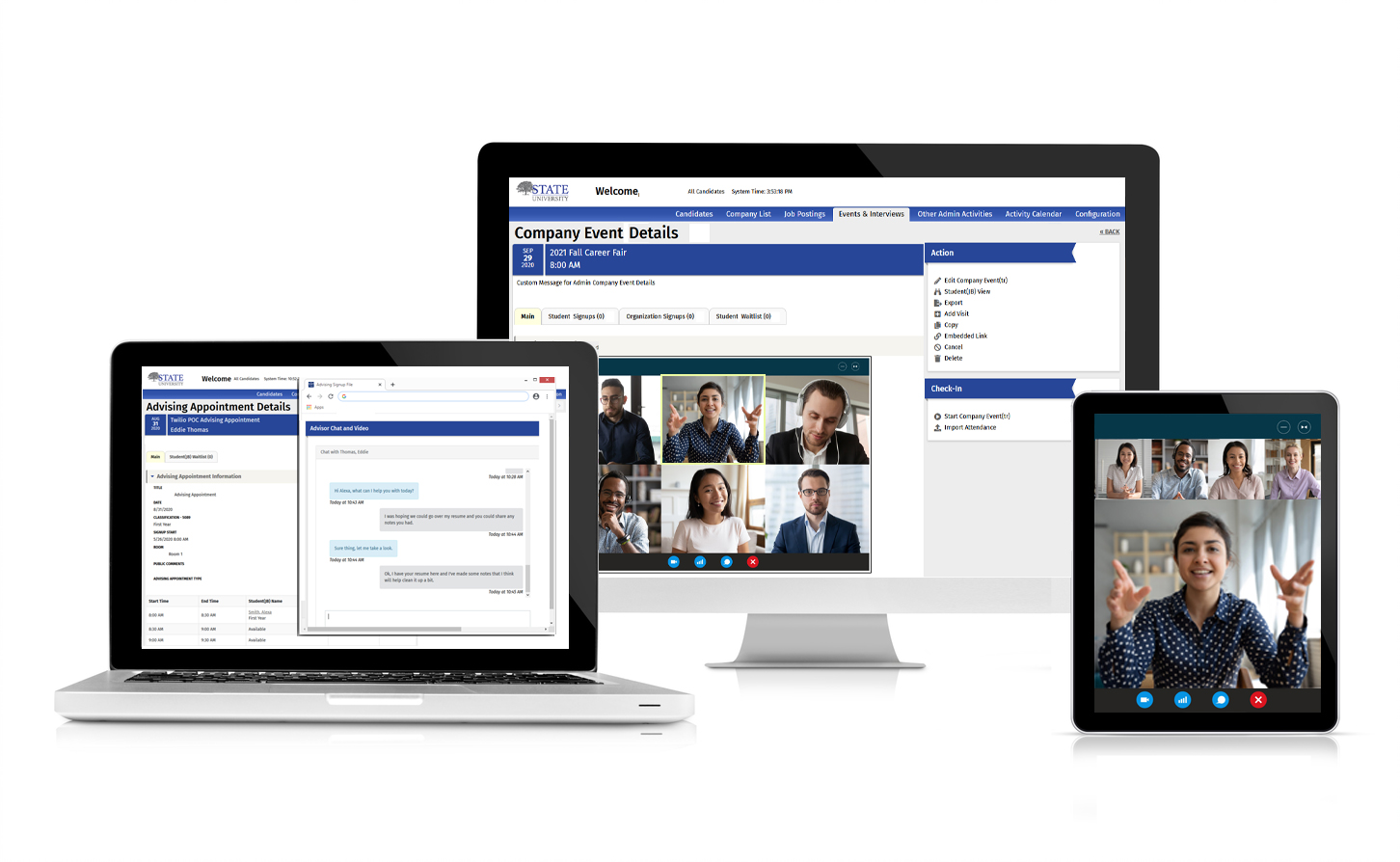 Stay-at-home orders forced people to separate, but people still desired a way to communicate and collaborate. Virtual meeting tools such as Zoom, Skype, and Teams have become household brands and a part of people's daily lives by giving them a way to stay connected.  
Online events have seen a steady increase as the demand for virtual experiences continues to grow. According to Eventbrite.com, virtual events have increased 2,000% from April 2019 to April 2020. These events and meeting tools will likely continue to play a big role in people's lives post pandemic.  
Communication tools can change the tone of the workplace and learning environment by creating a more cohesive setting. Text messaging, live chats, and video chats have become more common and accessible than ever before. Text messaging allows schools and employers to quickly contact or alert their students and employees. Live chats allow constant conversation in a casual environment that's more accessible than email. Video chats enable interactive conversations including the ability to see and interpret facial expressions and body language allowing participants to feel more engaged.
GradLeaders already offers easy ways to manage and track sign-ups for virtual events, workshops, interviews and 1-on-1 meetings utilizing your existing online meeting technology by simply creating virtual rooms with external URLs for attendees. But now, we're also adding new fully-embedded virtual tools and WebRTC (web real-time communications). These new features will include things like: 
SMS/MMS texting enhancements to send text alerts directly to users' mobile phones 
Live chat for in-app messaging between students and advisors, employers and staff, etc. 
Live video for everything from 1-to-1 meetings for advising and interviews to group meetings for workshops, career fairs, and other virtual events 
We also recognize the need to build additional integrations to popular services that schools, students and employers are already using – we will start with Zoom. In a recent survey, we found that 45% of employers and 74% of schools are already utilizing Zoom today. Our goal for those simple integrations is that you will be able to create and initiate a meeting/event within GradLeaders that will take users directly into Zoom. 
GradLeaders has already started planning for initial releases starting this summer 2020 for our partner schools. By implementing these communication tools, students, advisors, and recruiters will be able to connect with one another consistently and seamlessly. This real-time communication should aid in our goal to maximize engagement between students and career centers, ultimately creating more meaningful connections between students and employers. 
Are you prepared for virtual career services? Let's chat. 
To enable comments sign up for a Disqus account and enter your Disqus shortname in the Articulate node settings.