Virtual Career Fairs 2.0 Coming Soon from GradLeaders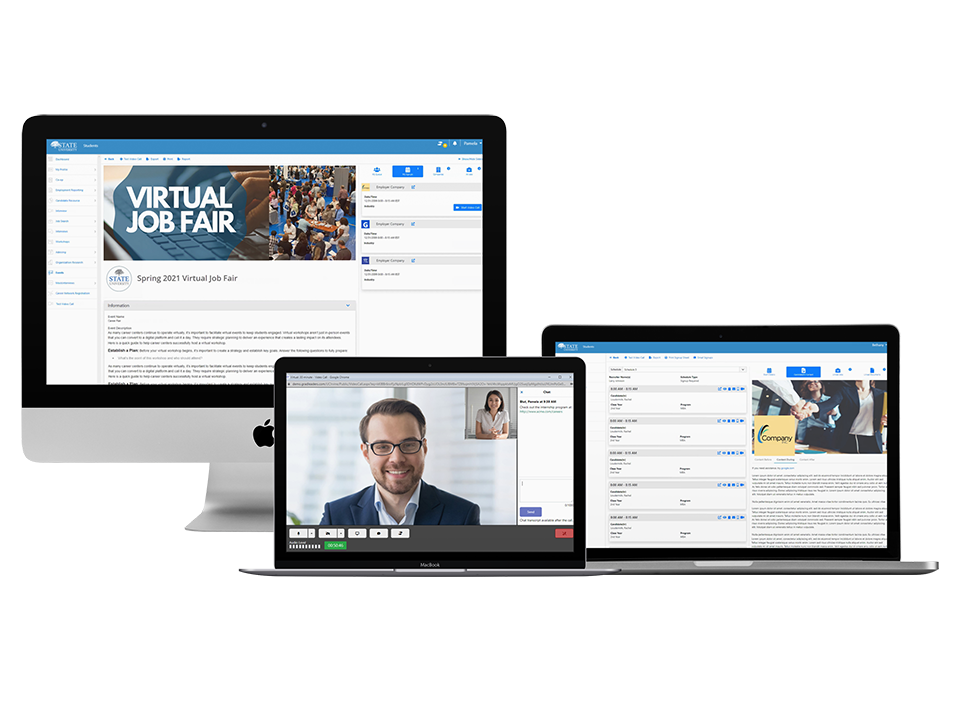 Virtual Career Fair 2.0 is the latest solution from GradLeaders for partners that want a comprehensive and integrated virtual career fair solution.   This new solution offers all the advantages of GradLeaders Connect including fully-embedded audio and video meetings along with screen share, chat, and SMS/MMS messaging right within the GradLeaders Career Center platform.
Virtual Career Fair 2.0 takes all of these advantages to the next level giving career center administration, recruiters, and students or alumni the ultimate flexibility to deliver a customized virtual career fair experience that creates more meaningful connections between your students and your employers:
For the Career Center:
Customized lobby with school branding
Ability to specify approved queue and schedule templates
Chat with career fair participants
Career Center booth with queue for student support
Real-time views of student and company engagement
Broadcast announcements to all participants
For Companies and Recruiters:
Employer-branded booth with logo and company information
Post open opportunities for career fair participants
Select from fixed timeslots or open queues for students
Review resumes before admitting candidates to the virtual booth
Capture notes or shortlist candidates any time during the career fair
Generate resume books following the event including resume drops, scheduled timeslots, or queued booth visitors
For Students and Alumni:
Research employers and favorite companies prior to the event
Find open opportunities and submit resumes before the career fair starts
Queue with multiple employers then get notified when at the top of a queue
Signup for specific employer timeslots in advance or find available timeslots during the event
And the best part is, it's all within the same platform you already use for job postings, advising, workshops, interviews and everything else career services or campus recruiting related. One system. One link. One login. Plus all the activity data and engagement reporting in one place. Learn more or schedule a quick demo at gradleaders.com/virtual
To enable comments sign up for a Disqus account and enter your Disqus shortname in the Articulate node settings.