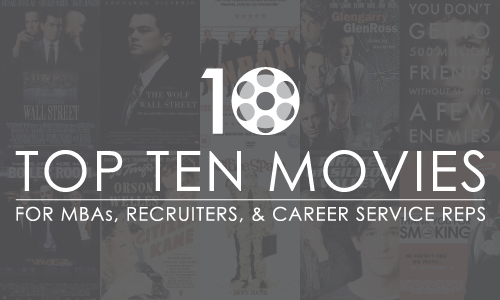 Life at graduate business school is hectic. MBA students are busy, not only with classes, but also with career services. Today, the job search begins before students even arrive on campus.  With all the obligations and expectations placed upon each student trying to earn his or her MBA, all while trying to land their dream job, sometimes students just need to unwind with a good movie.
Here is a list of ten movies that we believe every MBA student or alumni should see (plus top 10 lists for career service professionals and recruiters as well):
1.  Martin Scorsese's new film The Wolf of Wall Street is actually more about sales and marketing than finance. And if you can get past the swearing, all 3 hours are thoroughly entertaining thanks to two Oscar-worthy performances: Leonardo DiCaprio as a Wall Street golden boy (based on the infamous 1980s stockbroker Jordan Belfort, and his sidekick Donnie Azoff (based on real-life sidekick Danny Porush) played by Jonah Hill.      
        2.  It's Orson Welles' masterpiece and one of the best (if not the best) American film ever made.  Citizen Kane serves as a thinly veiled partial biography of newspaper magnate William Randolph Hearst and was written by, was directed by, and starred Welles.  Kane warns us of the potential perils and pitfalls of the professional life, lessons any MBA would be glad to avoid in his or her future career.  
3.  The Smartest Guys in the Room is a film about the most infamous company in America: Enron.  It's a documentary featuring profiles of former Enron traders, executives, lawyers… and the reporters who brought it down.  
4.  Office Space serves as a hilarious example of the kind of company culture most MBAs would despise.  Mike Judge's humorous take on the stereotypical corporate characters will have you quoting memorable lines for weeks.  "That would be grrrrreeeaaat."  
5.  Wall Street.  This Oliver Stone film about a stockbroker and his corporate hero, Gordon Gecko, was an ode to his father, who was a stockbroker during the Great Depression. And Michael Douglas' Oscar-winning performance of Gecko is actually based on some of the biggest names in history of the finance industry, including Dennis Levine, Ivan Boesky, Carl Icahn, Asher Edelman, and Michael Milken.  
6.  While excessive profanity and real estate deals might seem mutually exclusive, Glengarry Glen Ross makes heavy use of both.  This intense tale, based on the 1984 Pulitzer Prize and Tony winning screenplay of the same name, is as riveting now as it was in 1992. It also includes one of the most famous monologues of all time: The Art of Selling (warning NSFW).  The movie reveals the competitive nature of business and how having advanced knowledge and training can set one apart in the business world.  
7.  Although they are now both household names (with household products), The Pirates of Silicon Valley details the early, entrepreneurial years of Bill Gates and Steve Jobs, highlighting the tensions and triumphs that defined their individual successes.  
8.  Although it is now as ubiquitous as actual books and faces, The Social Network chronicles the first several years of our favorite workday distraction and its stubborn and eccentric inventor.  We promise, you will "Like" it because it reveals how a good idea, hard work, and the right timing can transform a dream into a world-changing business.  
9.  Boiler Room, like The Wolf of Wall Street, is a cautionary tale inspired by the true story of former-stockbroker-turned-motivational-speaker Jordan Belfort. Released 13 years earlier, it features an ensemble cast of up-and-coming stars including Giovanni Ribisi, Vin Diesel, and Ben Affleck.  
10.  Thank You for Smoking lights up the screen with its biting wit and smart social commentary.  It illustrates the attempts of a spin doctor to defend a product that real doctors condemn...and while his efforts go up in smoke, the laughs will have you in stitches.  
Did we forget one? Add it in the comments below:
To enable comments sign up for a Disqus account and enter your Disqus shortname in the Articulate node settings.