Top 10 movies for MBA recruiters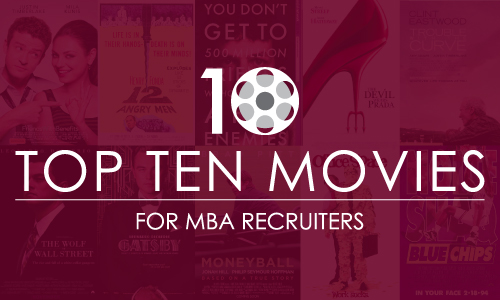 The job of an MBA recruiter is never truly done, especially in the Fall. Between on-campus recruiting, diversity events, emails, phone calls, interviews, and countless frequent flyer miles...they are lucky to get even a few hours of personal time during the day. But today, you can watch movies anywhere, anytime. So whether on plane, in a cab, or at a hotel, if you're a recruiter with some time to unwind, here are ten movies we suggest (plus 10 others for career service professionals and students and alumni too):
1.  Friends with Benefits is a rom-com starring Mila Kunis, an executive recruiter in NYC, who is trying to recruit Justin Timberlake, an art director for a small internet company in LA. It's one of those rare romantic comedies that not only performed well in the box office (grossing more than $55 million) but also received generally positive reviews from the critics (currently at 70% on RottenTomatoes.com.  
2.  12 Angry Men is an American classic from 1957 starring Henry Fonda that has literally become a lesson on the differing styles of leadership. It was filmed almost entirely on one set: a jury room – where 11 of the jurors are convinced that the defendant is guilty but the 12th isn't so sure.  What results is a masterpiece of drama, suspense and Fonda's seminal performance.  
3.  Although it is now as ubiquitous as actual books and faces, The Social Network chronicles the first several years of our favorite workday distraction and its stubborn and eccentric inventor. It's a story that proves you shouldn't always judge a book by its cover.  
4.  The Devil Wears Prada stars Anne Hathaway as a recent college graduate who gets a job that everyone wants, as a co-assistant to a powerful fashion magazine editor, played by Meryl Streep.  It's a story about all things HR, including: recruiting, branding, succession planning, and leadership.  
5.  Trouble with the Curve stars Clint Eastwood as an aging talent scout for the Atlanta Braves who is accompanied by his estranged daughter on one last attempt to prove his recruiting worth to the Braves.  On their trip, old secrets and hurts are revealed and bonds between father, daughter... and a romantic interest played by Justin Timberlake, are strengthened.  
6.  Martin Scorsese's film The Wolf of Wall Street is 3 hours long but thoroughly entertaining for every minute thanks to two Oscar-worthy performances: Leonardo DiCaprio as a Wall Street golden boy (based on the infamous 1980s stockbroker Jordan Belfort, and his sidekick Donnie Azoff (based on real-life sidekick Danny Porush) played by Jonah Hill.  It's a hilarious film not only about finance, marketing, and sales, but also about recruiting top talent and successful team building.  
7.  2013's The Great Gatsby was Hollywood's third attempt at turning F. Scott Fitzgerald's classic novel into a blockbuster.  It stars Leonardo DiCaprio as "Gatsby" and Tobey Maguire as his "apprentice" Nick Carraway. It's one of the all-time great stories about personal branding and mentorship.  
8.  Moneyball stars Brad Pitt and is a biographical account of the 2002 Oakland Athletics' attempt to build a competitive team using an innovative and exciting new recruiting method based on baseball's "sabermetric" approach.  
9.  Office Space serves as a hilarious example of why corporate culture matters to employees.  Mike Judge's humorous take on the stereotypical corporate characters will have you quoting memorable lines for weeks.   "That would be grrrrreeeaaat."  
10.  Blue Chips stars Shaquille O'Neal as a potential recruit for the fictional Western University Dolphins.    The University is using dubious means to recruit the best talent to their team, so called "blue chip" players, and cheating to improve their standings.  But it's also a big screen example of how relationships, networking, and good-ole fashioned handshakes will always be at the core of recruiting.  
Did we forget one? Add it in the comments below:
To enable comments sign up for a Disqus account and enter your Disqus shortname in the Articulate node settings.