Top 10 mobile apps for MBA students & alumni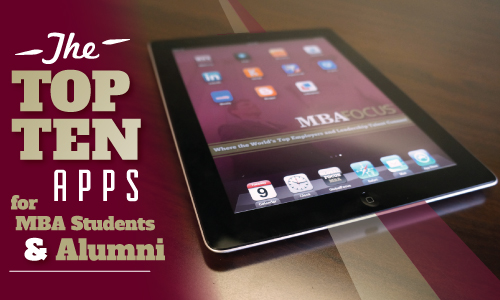 Congratulations, you're an MBA!  Whether you've already graduated or still in school, it's good to be equipped with as many career service tools as possible to help you land your dream job.  One of the best tools for the job is your iPhone or iPad.  These ten iOS apps help both candidates and alumni in their quest for vocational fulfillment.
1. LinkedIn - Keep up-to-date with your business connections with this mobile version of the social network.
2. DropBox - Are you tired of constantly emailing files or storing them on awkward flash drives?  DropBox offers a third option when it comes to storing and sending data.  It allows you to upload data into files in a cloud-based interface that you can share with others.  Just upload your resume, cover letters, writing samples, and other documents you're always sharing and updating to keep them all in sync and easily accessible.
3. Weebly - In these internet-literate days, it's important to have a piece of the web that you can call your own.  Beyond a social networking presence, it's good to have an actual web domain that you can customize with your own personal brand.  Weebly offers an intuitive drag-and-drop format for the creation of your own personal site.  It also allows you to publish content, edit photos and text, and check your site's stats and analytics on the go.  Weebly helps gives your personal site an edge in this competitive job market.
4. Blogger/Wordpress/Tumblr - You've kept an online blog for years.  It contains your thoughts, impressions, and perhaps helpful hints to your readers.  With the Blogger, WordPress and Tumblr apps you can take that online publishing power with you wherever you go.  Keep the world updated on the fly and prove to your readers why you have the qualifications and experience that it takes to rise to the top.
5. Bloomberg - If you want instant access to breaking financial news and want to keep an eye on the market at the same time, this is the app for you.  Unlike other stock-checking apps, Bloomberg is free and offers a simple interface and navigation.
6. Pulse - Whether you're a student or alumni, you have a lot on your plate.  Deadlines, applications, and projects have to be completed.  You want to stay abreast on all the news headlines from your favorite publications, but you don't want to clutter your home screen with a slew of apps.  Pulse is your solution.  It aggregates articles from all your favorite sources, RSS feeds from your reader, and even social network updates -- making it your one-stop shop to stay informed.
7. SimpleNote - Are you tired of writing important notes on pieces of paper that seemingly often get misplaced?  With SimpleNote you can write notes in your web browser on your desktop computer and they will sync with your mobile device, and vice versa.  You can also categorize notes by different headings to help you keep your thoughts, and your life, a bit more organized.
8. TextGrabber - Ever need to scan a printed document on-the-go? This app allows you to take a picture of a body of text and then it reproduces the photographed text as an editable text note on your device.  It also provides a powerful translating tool for interviews with overseas employers.
9. Letterpress - If you're a student or alumni of a top graduate business school, chances are you're quite the wordsmith. But coming up with the right "words" can often be a chore. Letterpress makes words fun again.  Play against yourself or with friends in a game where you find words, steal tiles, and color the board to improve or prove your wordsmithing skills to the world.
10. MBA Focus - If you're a MBA at one of our partner schools, download the MBA Focus mobile app to access all your career services on-the-go. Just sign in to your b-school's career management center on your computer to authorize your mobile device. It's that easy!
Not at one of our partner schools? Contact your career service office and tell them you'd like to join our exclusive network. They'll know where to find us.
To enable comments sign up for a Disqus account and enter your Disqus shortname in the Articulate node settings.