Solving Career Center User Challenges Quickly with Live Chat
Our knowledgeable staff is available daily to answer quick questions and provide immediate assistance via Live Chat. 
Chat is available through GradLeaders Career Center platform via the Help menu. 
In the black bar at the top of your screen, click "? Help," then select "Support + Resource Center."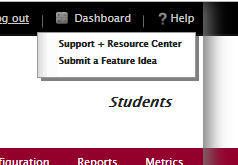 This takes you to the support portal. In the bottom right corner, you'll see this box. Click "START CHAT" to begin.
On average, live chat requests are resolved within 12 minutes and over 70% of questions submitted via Chat are resolved during the session. Some questions or requests, such as those requiring research, data management or complex configuration, may be converted to a case. When this occurs, the customer support team will create a case and notify you via email when it is resolved.
Live chat is ideal for quick how-to questions, settings updates or troubleshooting.
Our friendly staff is tenured and look forward to getting to know you. We are here to help Monday through Friday from 8:30am to 5:00pm ET.
We have a 97% satisfaction rating from customers using live chat. Here are some of the comments we've received:
"Bob …is always responsive. He finds solutions/follows up consistently."
Bob was so helpful. He was patient and resourceful in helping us get on the same page with my problems. He sent screen shots and a User Guide (instead of directing me to a web page to fend for myself). And he addressed multiple problems for me."
"Very helpful and fixed the issue quickly"
"Mohamed gave me the information I needed at lightening speed. Thank you!"
"Quick and easy resolution. Thank you!"
"Always professional and willing to help!"
"Josh was super supportive and lead me right through what I needed to do. He was great to work with. Thank you!!"
"Bob was excellent. Understood my question and gave me the solution. I appreciate his professionalism."
To enable comments sign up for a Disqus account and enter your Disqus shortname in the Articulate node settings.