Global Focus launched for the 2015-16 recruiting season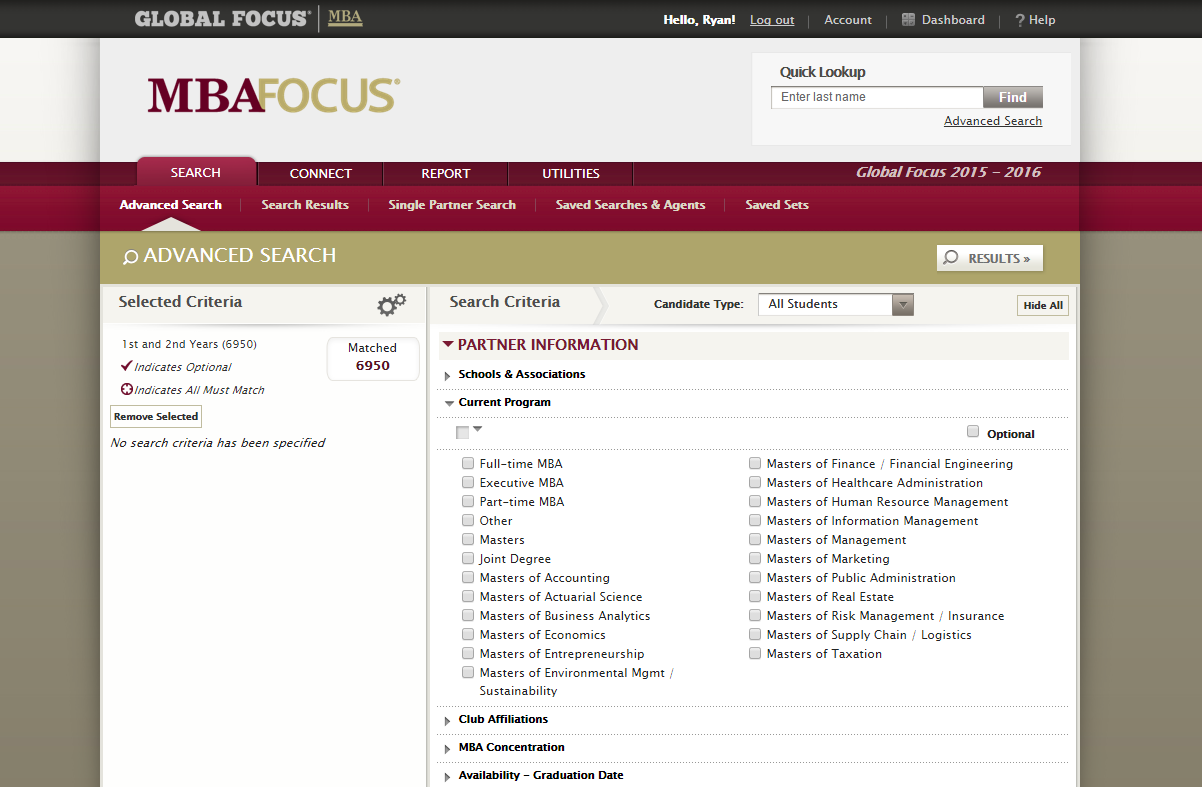 Global Focus is now available to our corporate partners for 2015-2016! With the release of our most advanced recruitment platform, we're able to better connect our employer network with more schools and their job-seeking business leadership talent. Through our existing technology solutions, and recent merger with CSO Research, we are confident that 2015-16 will be an exciting and successful recruitment season for all of our partners!


NEW GTS SCHOOL PARTNERS: New full GTS platform partner schools means more schools available as part of the OCR Integrated Interviews & Events Calendar within Global Focus. Our new full GTS platform (OCR) partners schools for the 15-16 recruiting season include:
Chapman University, Argyros School of Business and Economics (existing partner, new to full GTS platform)
UC Davis Graduate School of Management
UMKC, Henry W. Bloch School of Management
Washington University in St. Louis, John M Olin School of Business
NEW GTS ECP SCHOOL PARTNERS: School partners at an Employer Connection Partnership (ECP) level are included in our searchable Global Focus database. New GTS ECP partner schools for the 15-16 recruiting season include:
Auburn University, Raymond J. Harbert College of Business
College of William and Mary, Raymond A. Mason School of Business
Temple University, Richard J. Fox School of Business and Management
The University of Nebraska-Lincoln, College of Business Administration
University of Oxford, Saïd Business School
NEW SEARCH FILTERS:
Global Focus users can now filter the candidate database by more than 30 specific Technical Skills, including:
Business Analytics
Data Mining
MatLab
Programming Skills
Python
SQL
and many more!
In addition to the current MBA program filters, recruiters can now filter the candidate database by more than 15 Masters degrees, including:
Masters of Accounting
Masters of Healthcare Administration
Masters of Information Management
Masters of Marketing
Masters of Public Administration
Masters of Taxation
and many more!
To learn more about our Global Focus recruiting platform, and how MBA Focus connects top employers with business leadership talent at top schools and diversity associations around the world, contact us or schedule a live demo.
To enable comments sign up for a Disqus account and enter your Disqus shortname in the Articulate node settings.