Early access to MBAs via club resume books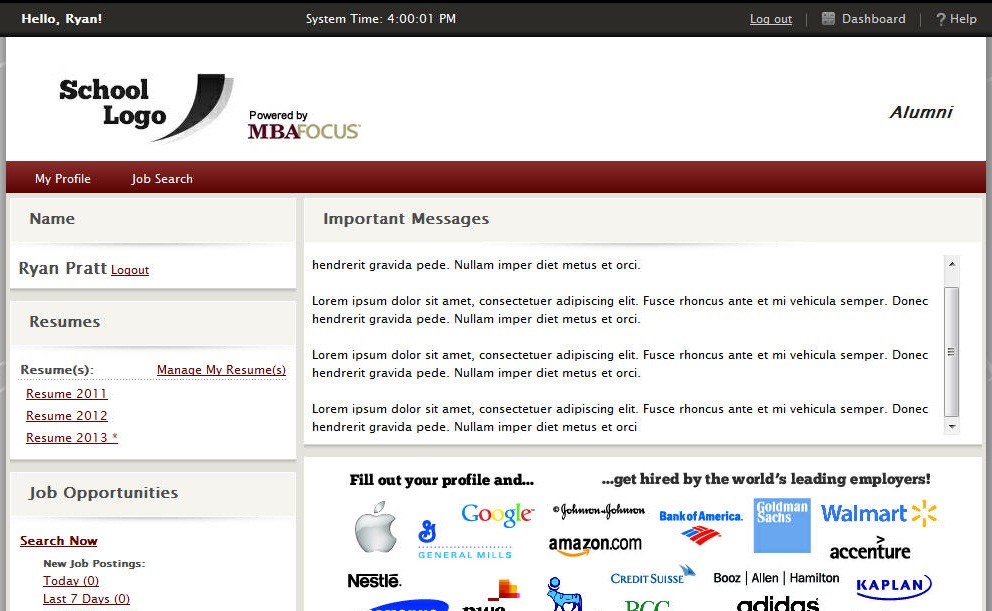 As a partner with the career service office at most of the world's top graduate business schools, MBA Focus offers access to MBAs who are members of specific clubs and associations.
These clubs create a searchable resume database that employers can use to source candidates with specific interests and diverse demographics. Club resume books are a simple centralized source of a school's club members. Each resume book is a searchable online database that recruiters can filter by candidate experience, preferences, keywords, and more.
Here are some of the clubs we offer access to via our Global Focus MBA recruitment system:
African Business Association
African-American Business Association
Arab Business Association
Arts and Entertainment Club
Asian Business Association
Australia / New Zealand Business Association
Biotechnology Club
Business Leadership Club
Canadian Business Association
Caribbean Business Association
CGSM / Consortium
Chinese Business Association
Christian Business Association
Consulting Club
E-Business and Technology Club
Economics Club
Education Club
e-Learning and Knowledge Management Club
Emerging Markets Club
Energy Club
Entrepreneurs Club
Environmental Management Club
Equity Research Club
Ethics Club
European Business Association
Finance Club
Financial Engineering Club
French Business Association
Gay and Lesbian Business Association
General Management Club
Healthcare Club
Hedge Fund Club
Hellenic Business Association
Hispanic Business Association
Human Resources Management Club
India Business Association
International Business Club
Investment Banking Club
Investment Management Club
Israel Business Association
Japanese Business Association
Jewish Business Association
Joint Ventures Club
Korean Business Association
Latin American Business Association
Management Consulting Club
Management Leadership for Tomorrow (MLT)
Marketing Club
Media - Club or Outlet
Merger and Acquisition Club
Microfinance Club
Military in Business Club
Muslim Business Association
Net Impact / Community Service
Non-Profit Club
Operations Management Club
Other
Pacific Rim Business Association
Politics and Public Government
Private Equity Club
Product Design and Manufacturing Club
Real Estate Club
Retail Club
Risk Management Club
Sales and Trading Club
Science Club
Small Business Consulting Club
South American Business Association
Sports - Club or Competitive
Strategic Operations Club
Student Government
Technology Club
Telecommunications Club
Toastmasters / Public Speaking Club
Transportation Club
Venture Capital Club
Veterans Club
West Coast Business Association
Wine / Beer Club
Women in Business Association
For more information please contact us.
To enable comments sign up for a Disqus account and enter your Disqus shortname in the Articulate node settings.